Vessel
The first collaboration between Jalet and Japanese visual artist Kohei Nawa literally fusing sculpture and choreography. The creation of a mythology through the exploration of human's anatomy.
The idea for Vessel by Damien Jalet, in collaboration with the Japanese plastic artist Kohei Nawa, germinated in 2015 during a shared residence at the Villa Kujoyama in Kyoto. At the intersection between sculpture and choreography, the two art forms meet and become indivisible. Taking the contradictions of the human body as their starting point, the artists, together with a group of seven dancers, create a fascinating work embracing regeneration and deterioration, solid and liquid, anatomy and mythology. In addition, the Japanese composer Marihiko Hara serves the performance with a captivating score.
Damien Jalet travels the world, imbuing his choreography with i;qgery originating in the myths and the rituals of each country he visits. He succeeds in combining them with the elemental conflict between the body and the spirit of dance. In his sculptures and installations Kohei Nawa explores different materials and techniques, communicating an organic vision of the world while simultaneously combining image and materiality with impressive success.
The artistic duo instills the scenography with an intriguing breadth of physical properties, ranging from gases, to liquids and solids, in an attempt to create a dynamic fusion between the dance stage and the bodies of the dancers. The distinctive "headless" posture hides the faces of the performers, imposing anonymity in a dissimulation of genre and identity, while insinuating all at once the existence of a non-human entity. The vision of the world rendered by such sculptural dance transcends the artistic disciplines.
Show created at the Villa Kujoyama, Kyoto (Japan) in 2015.
Production : Théâtre National de Bretagne; SANDWICH Inc.Coproduction : Yohohama Arts Foundation. With the support of the Caisse des Dépôts and of the Performing Arts Japan Programme for Europe (Japan Foundation).
Vessel premiered in September 2016 at Rhom theater Kyoto.
Nomination at Laurence Olivier Awards 2020 as "best new dance production .
Elected "plume d'or" by the French critic Collective "danse avec la plume".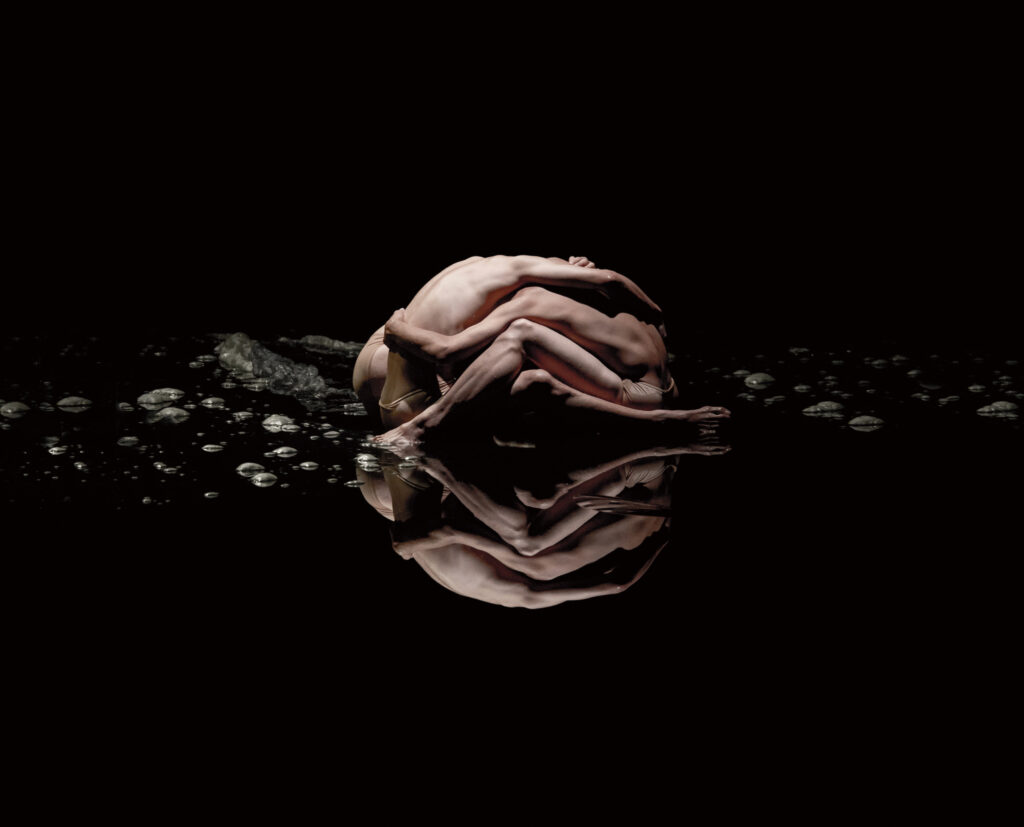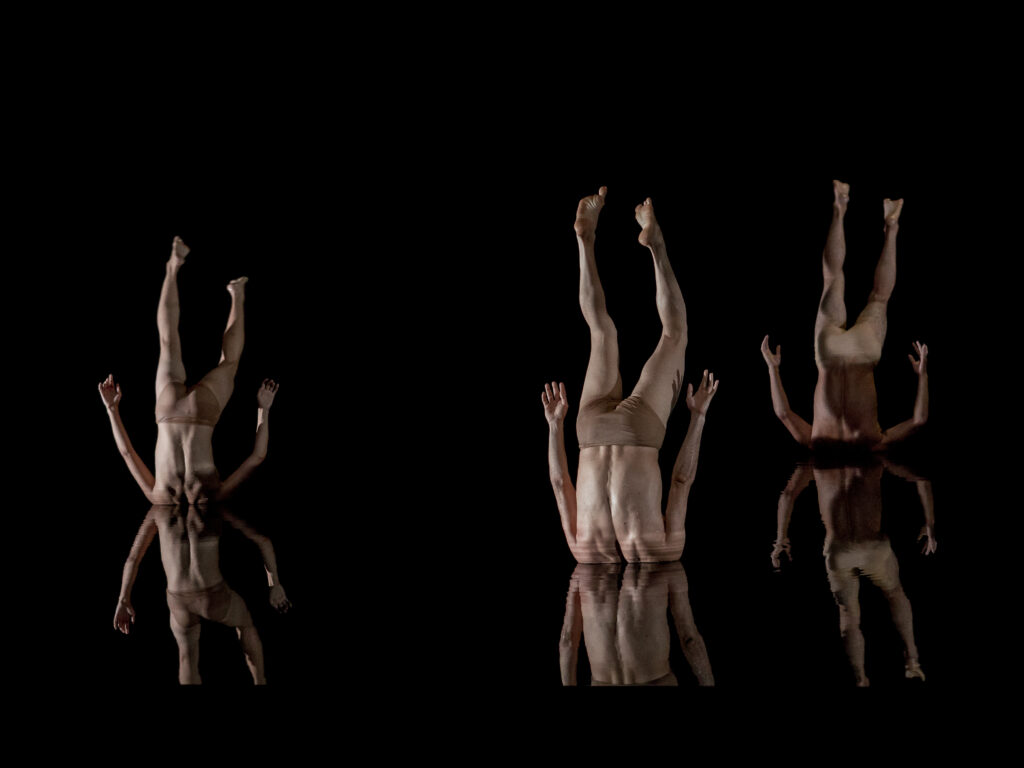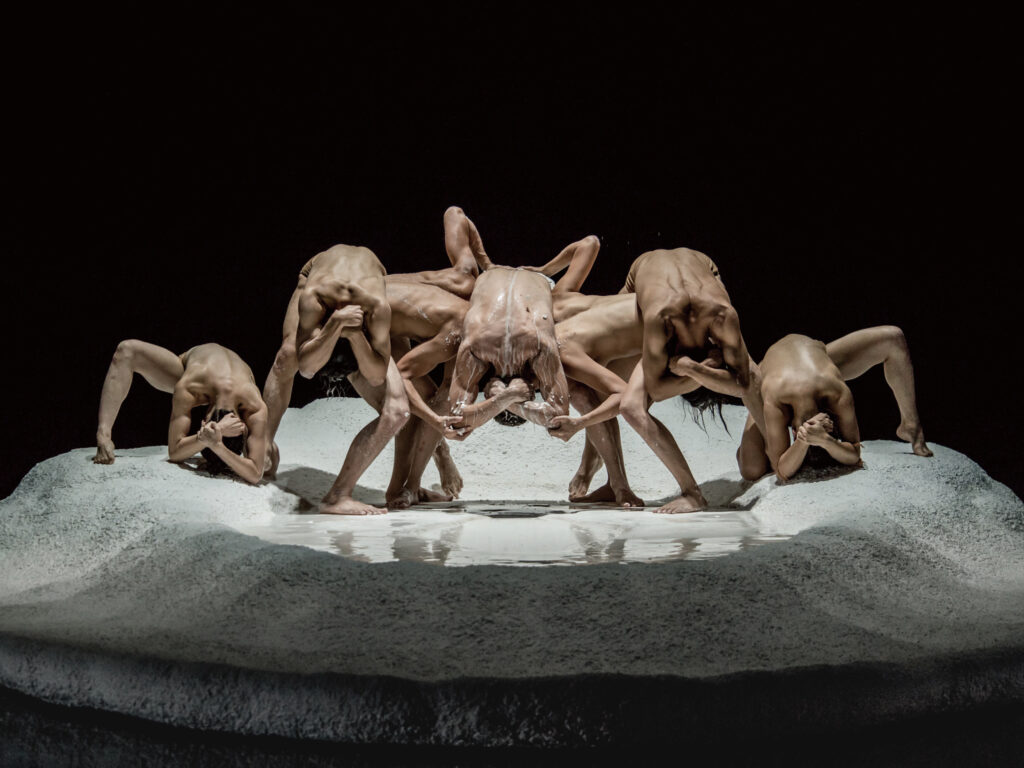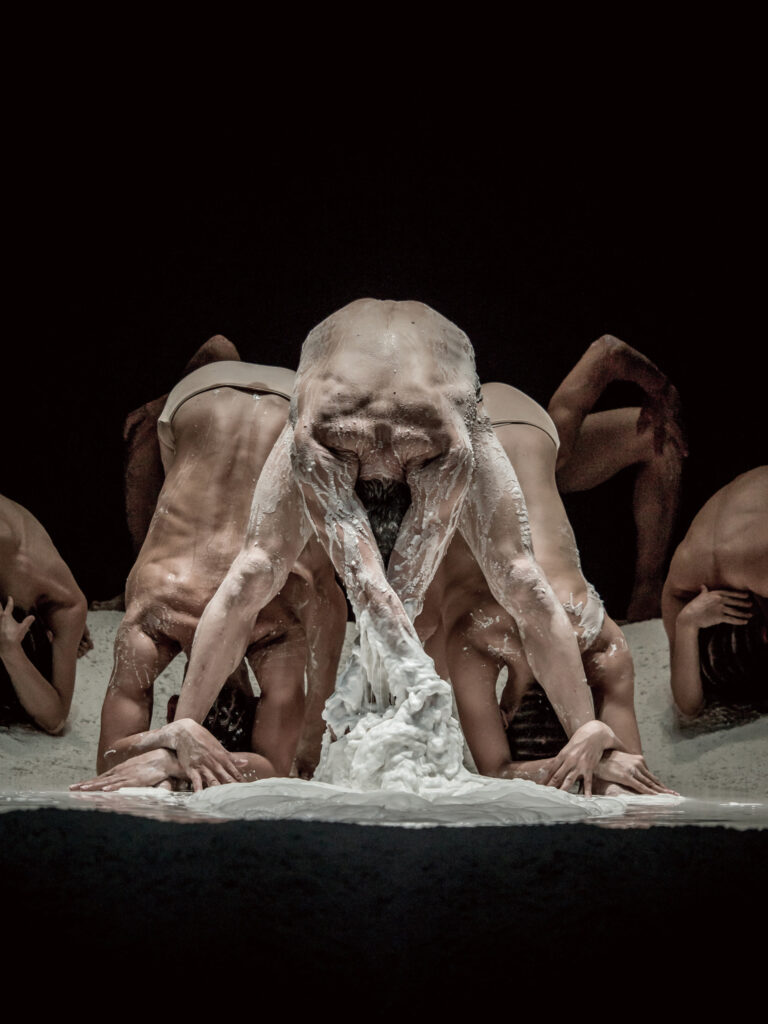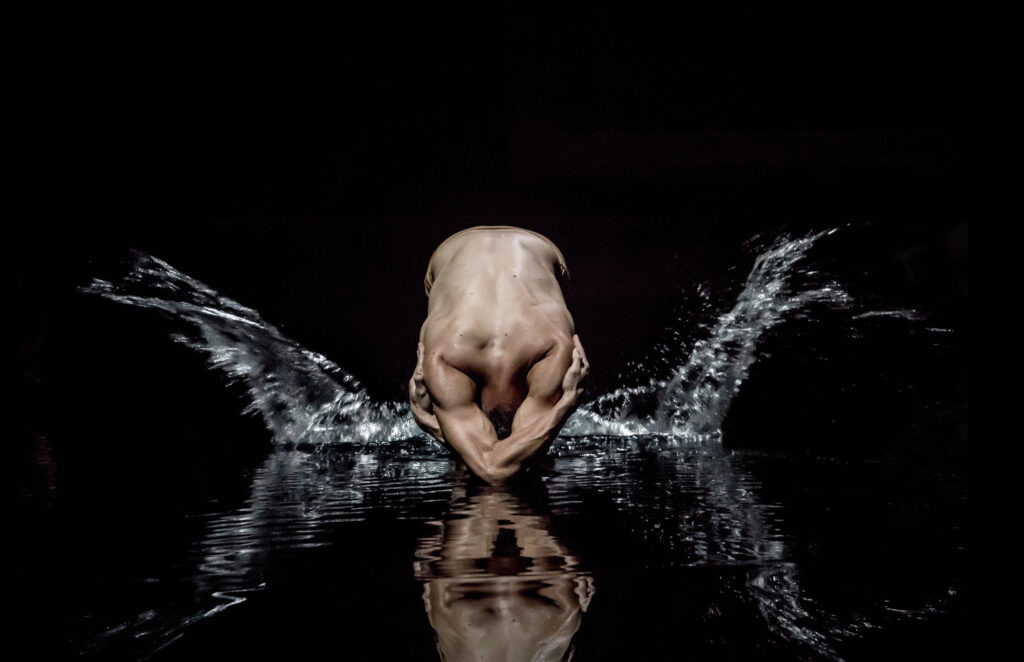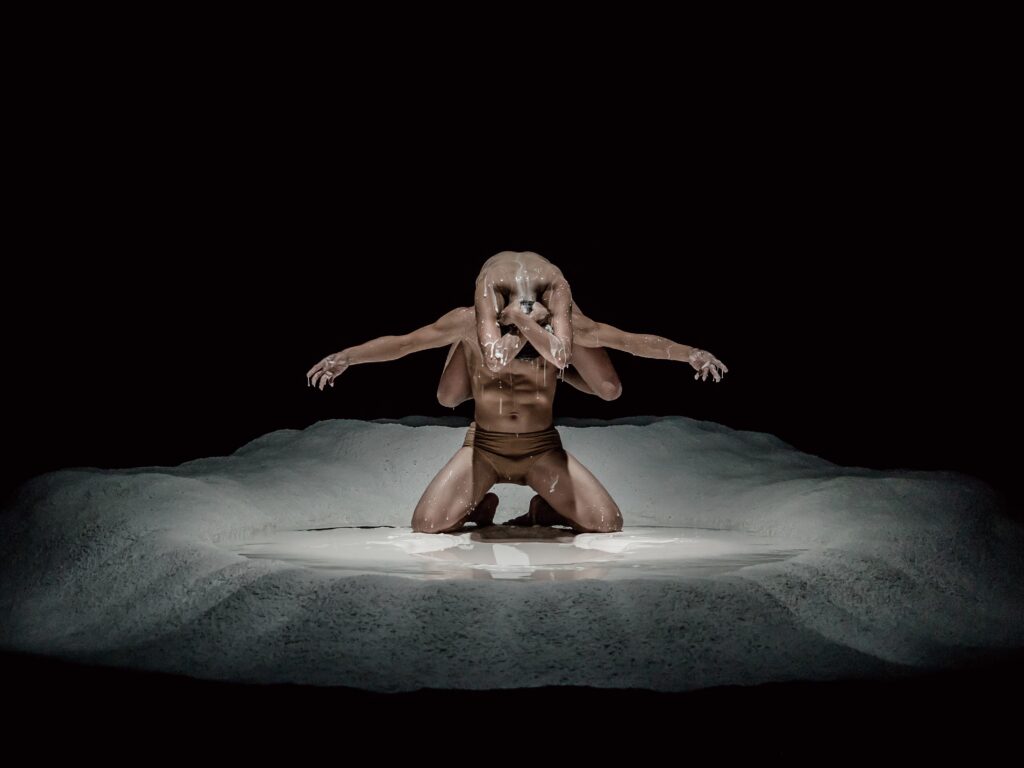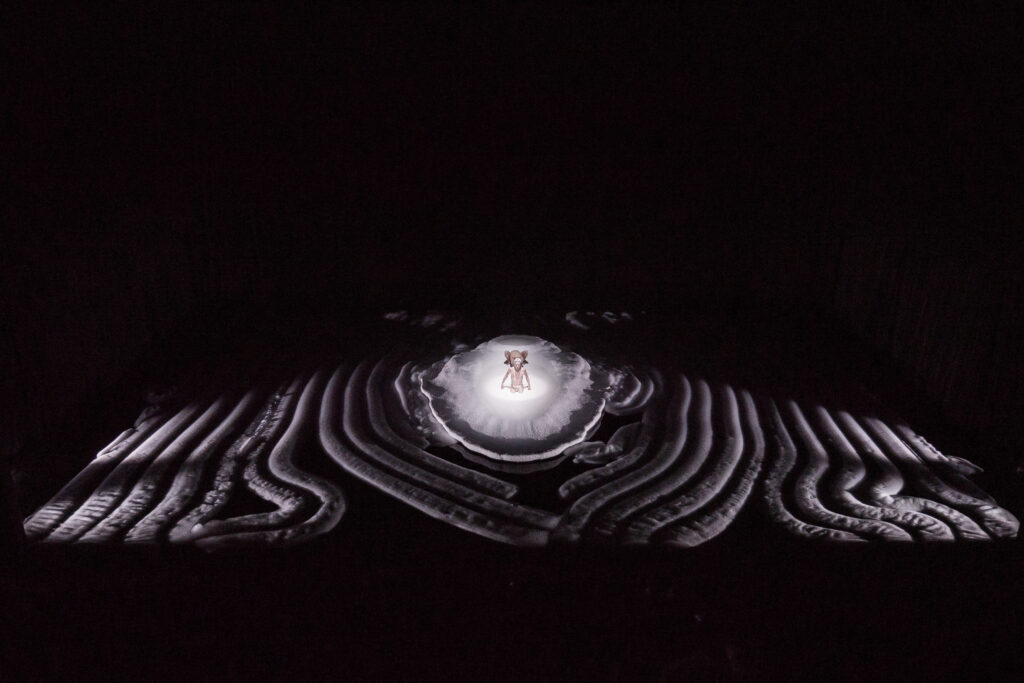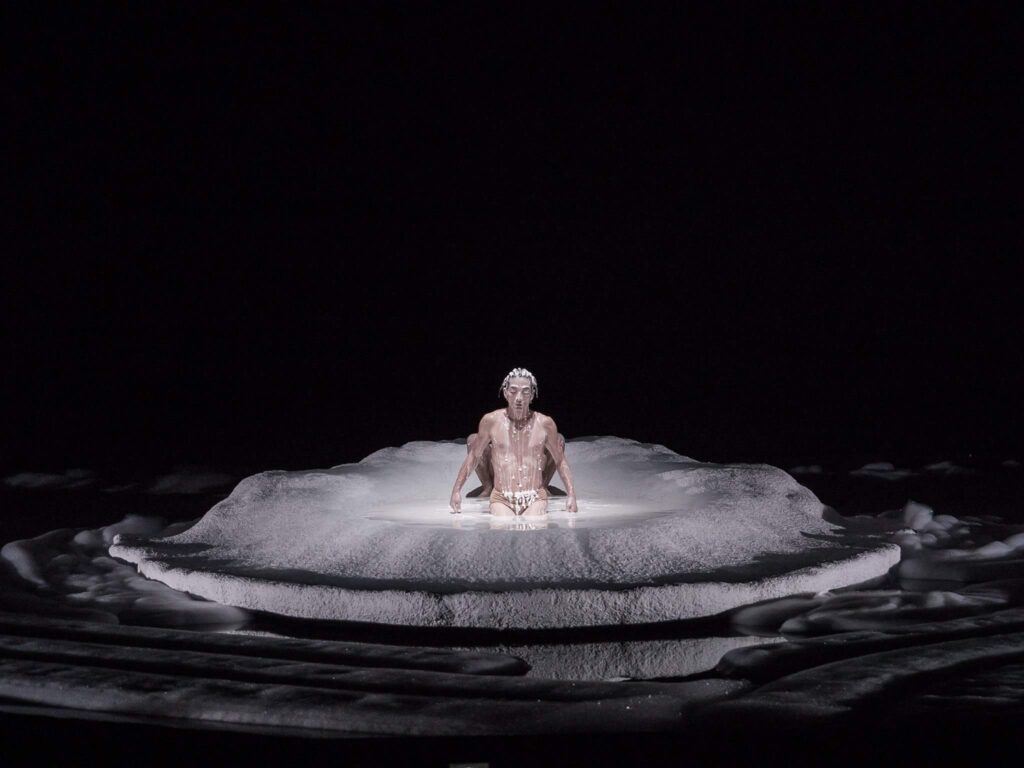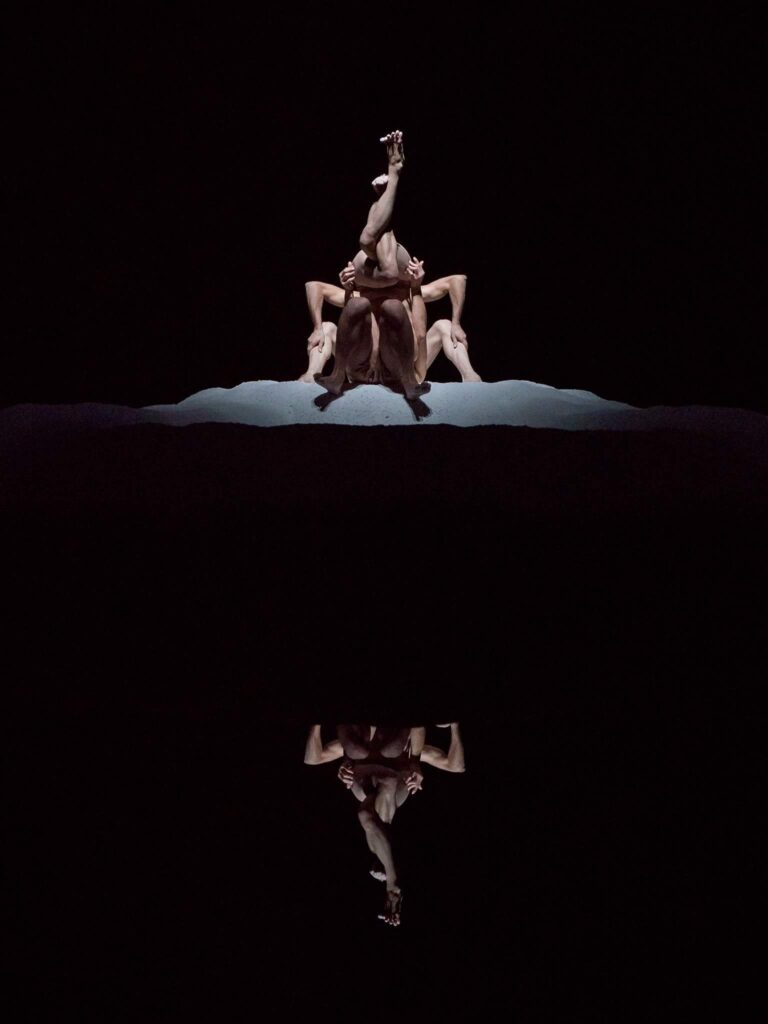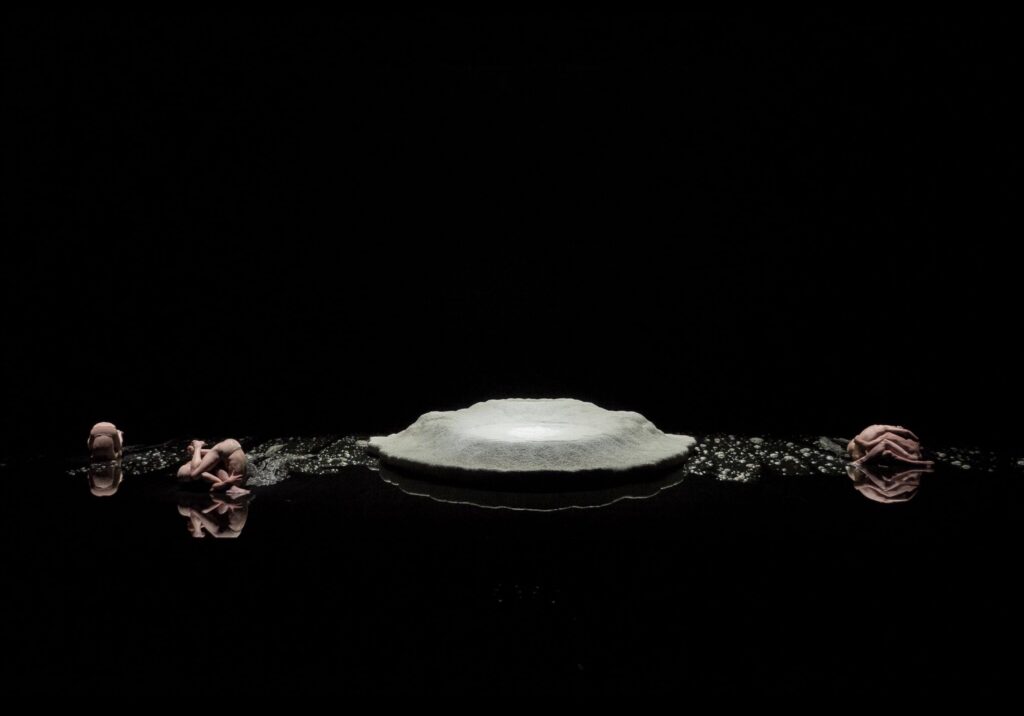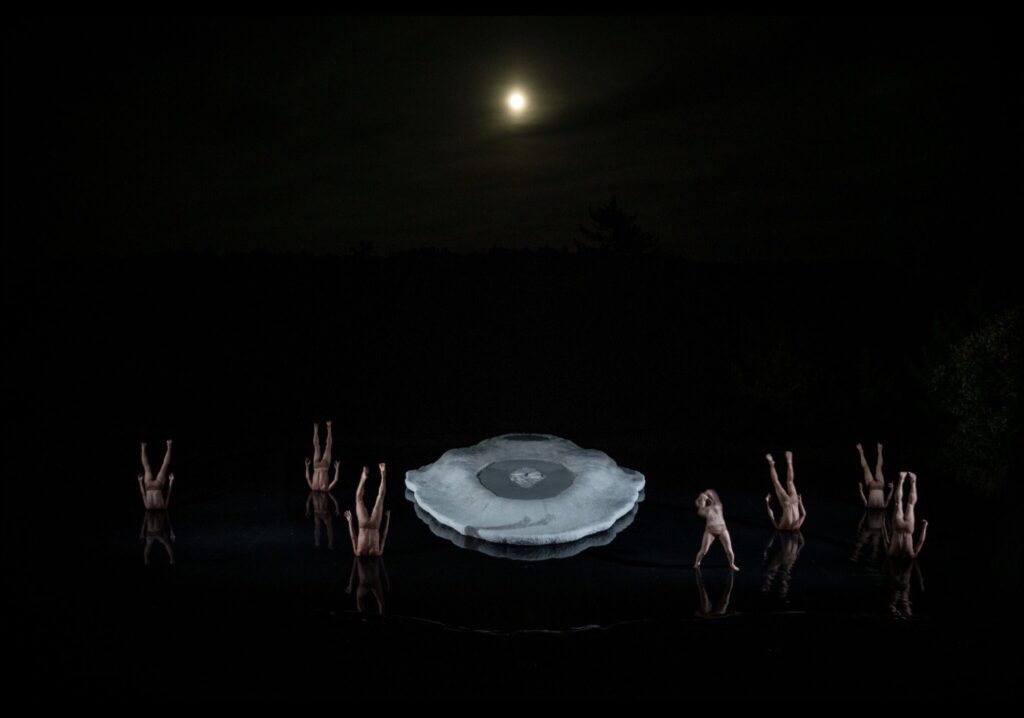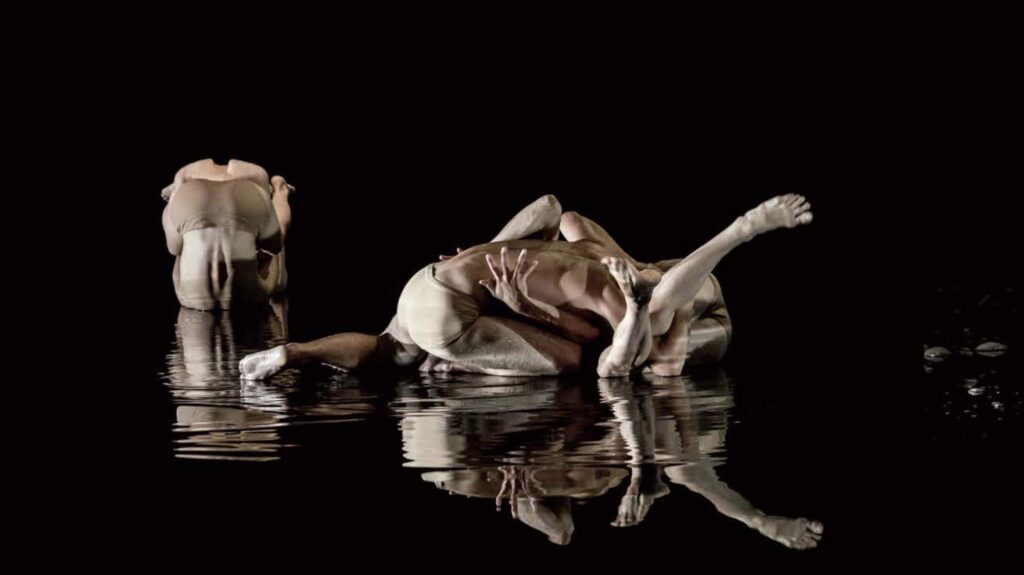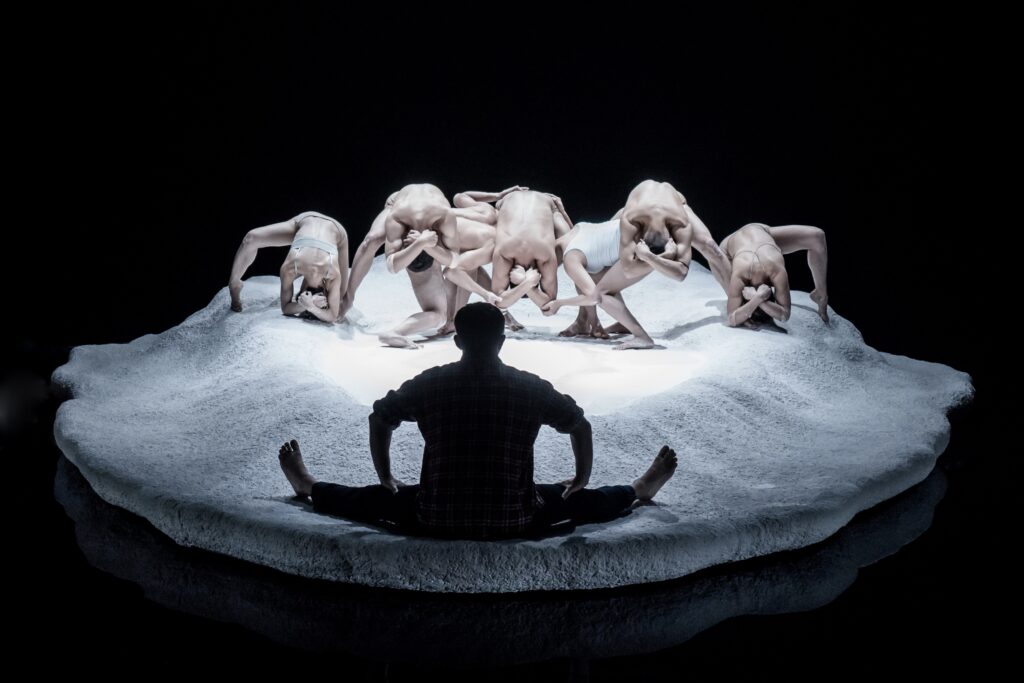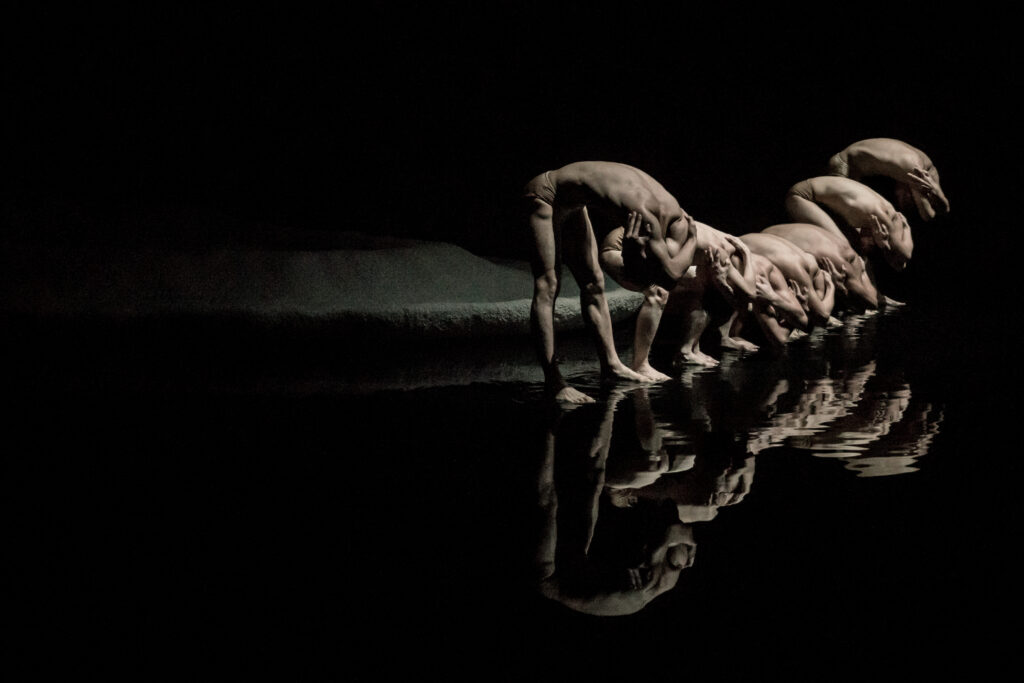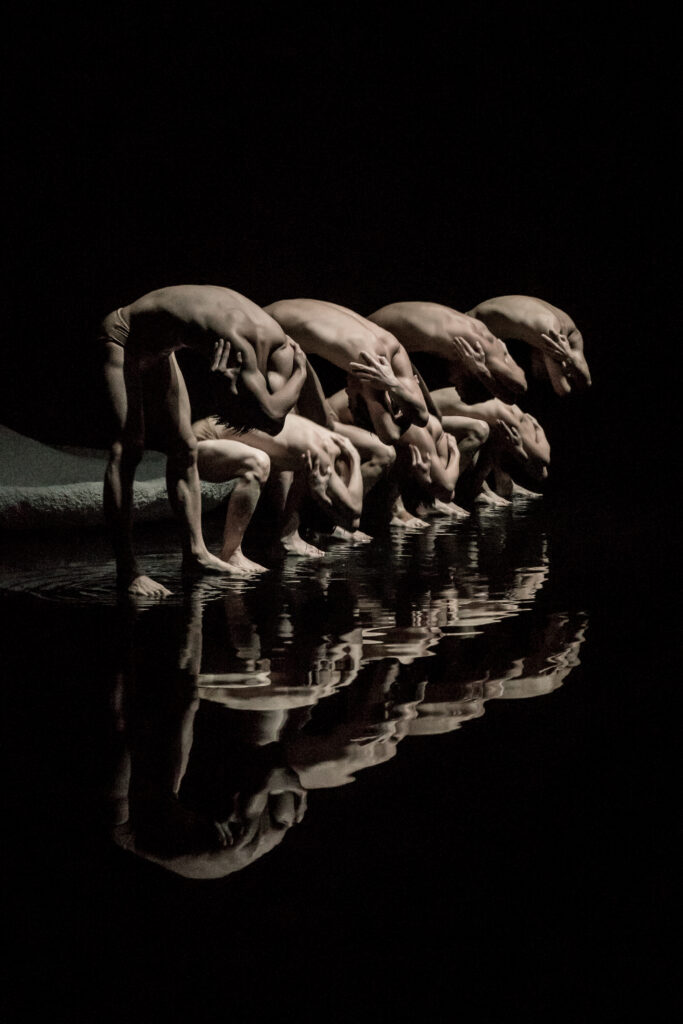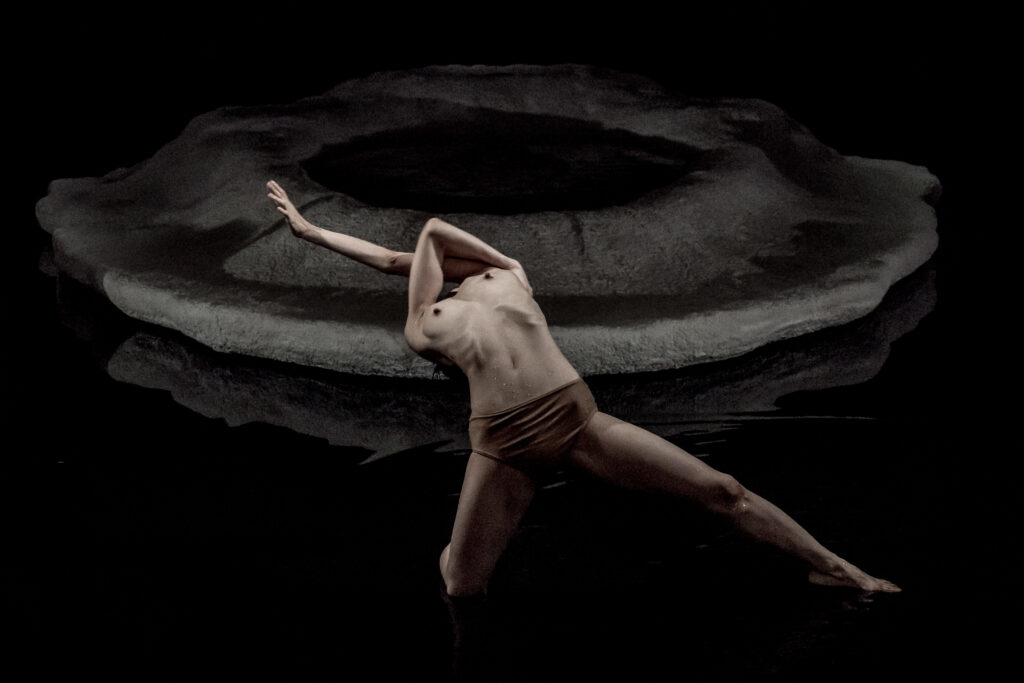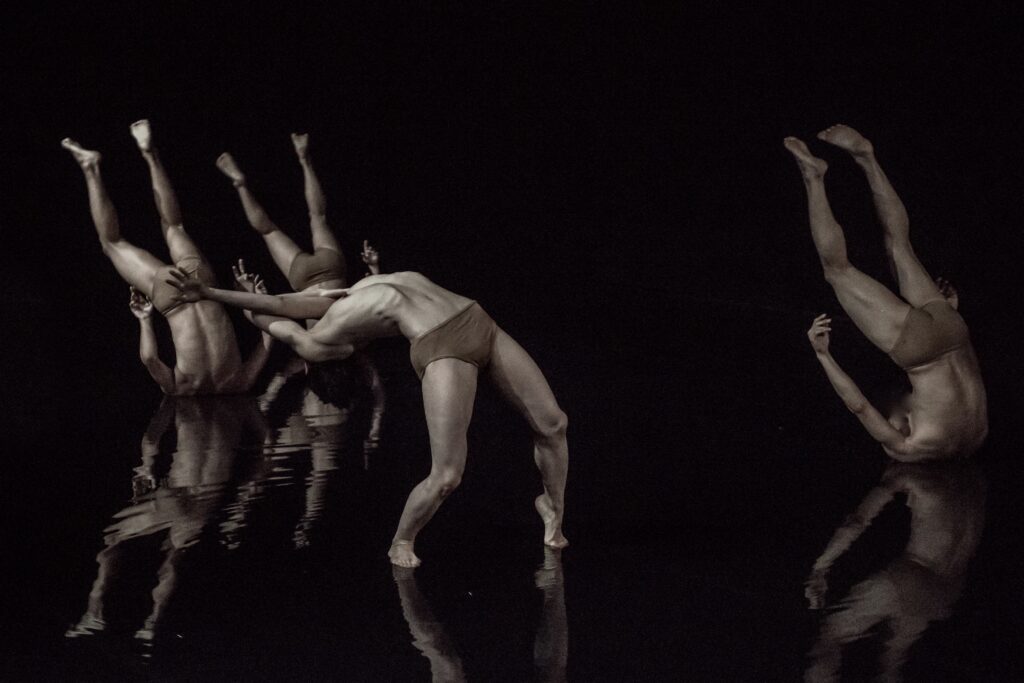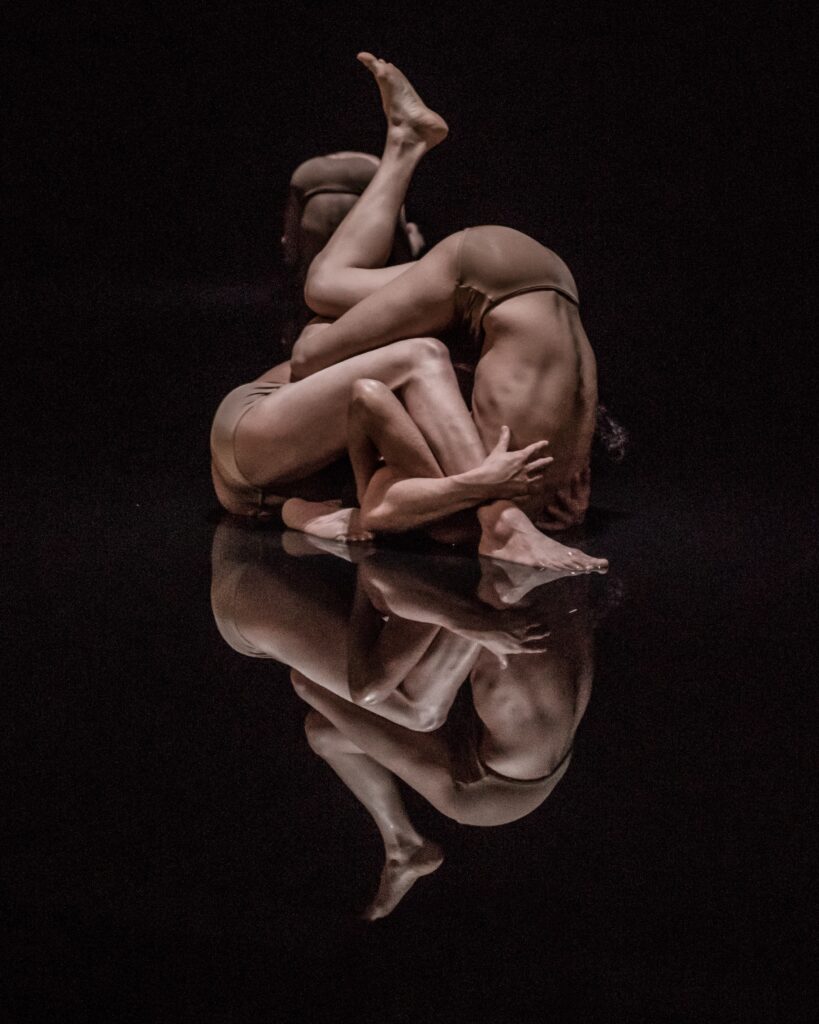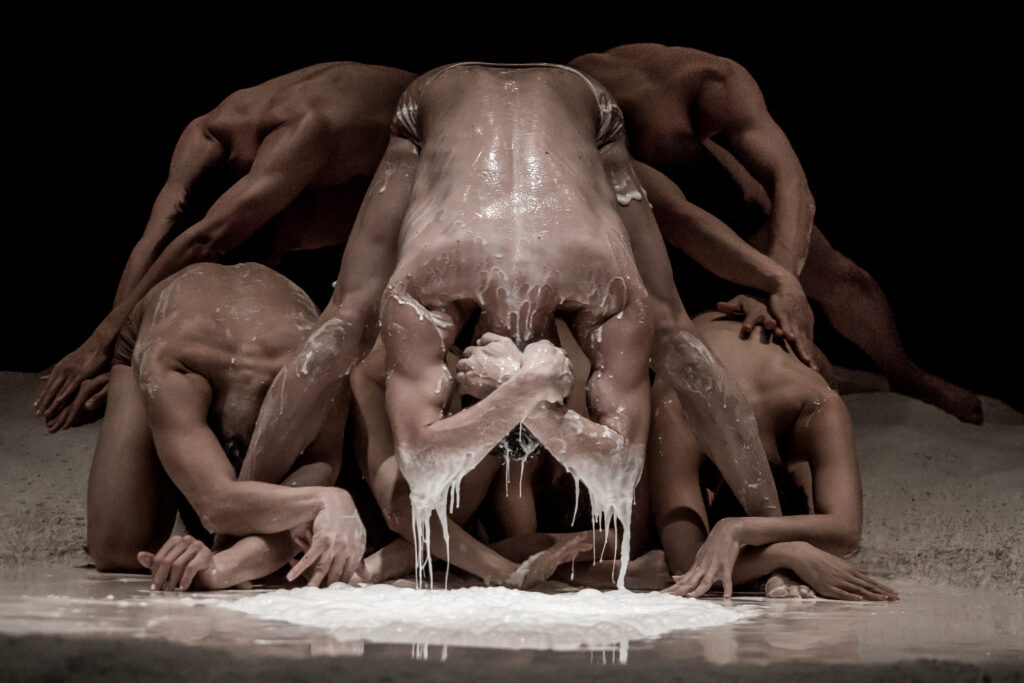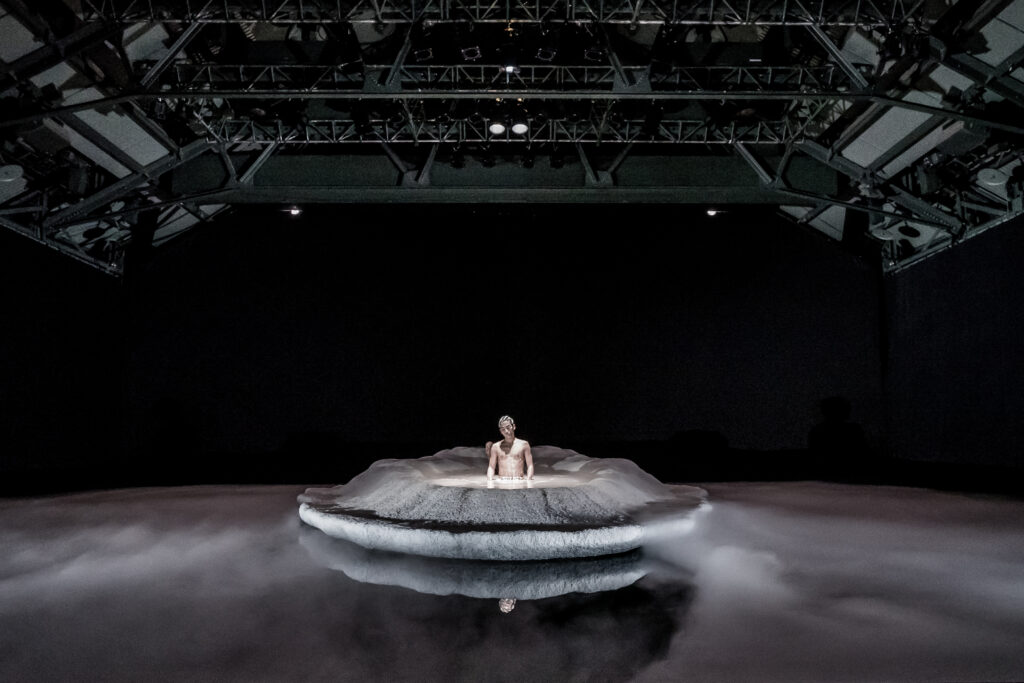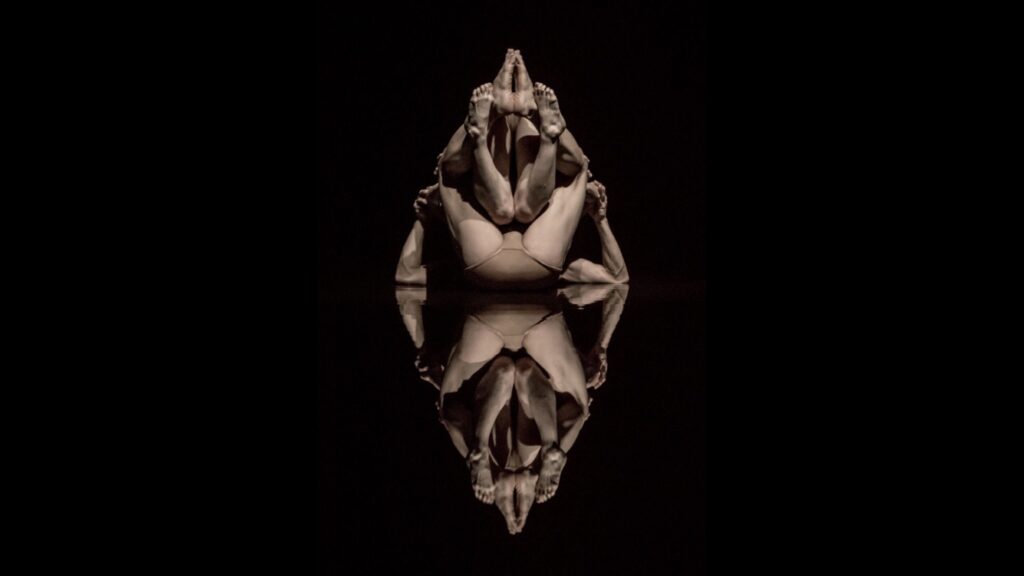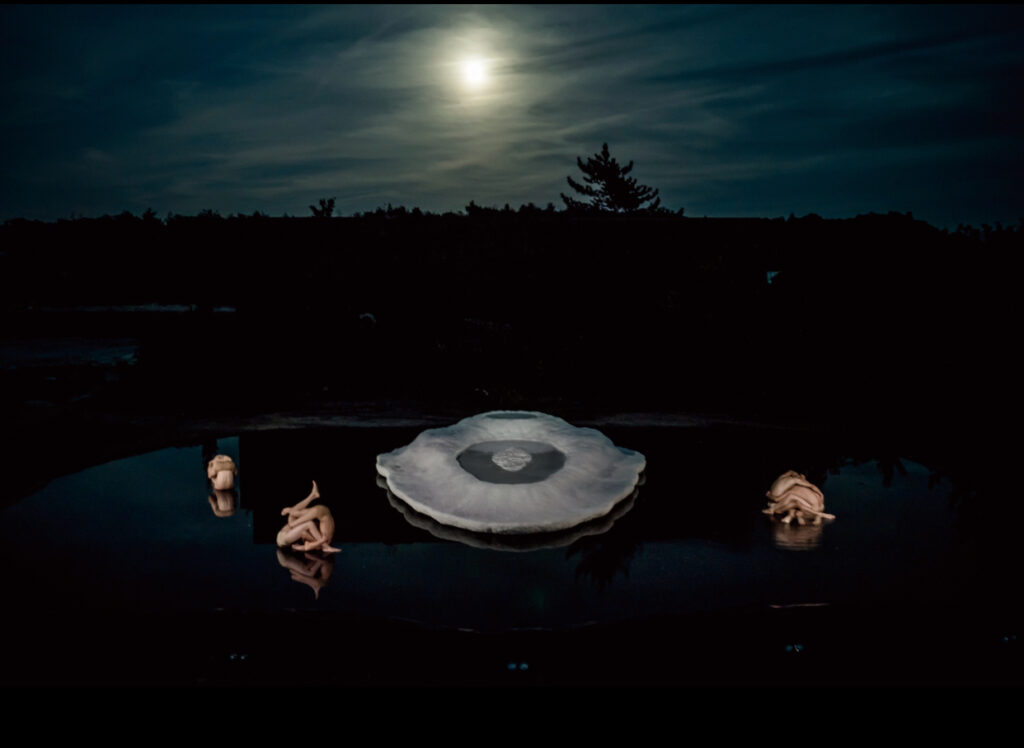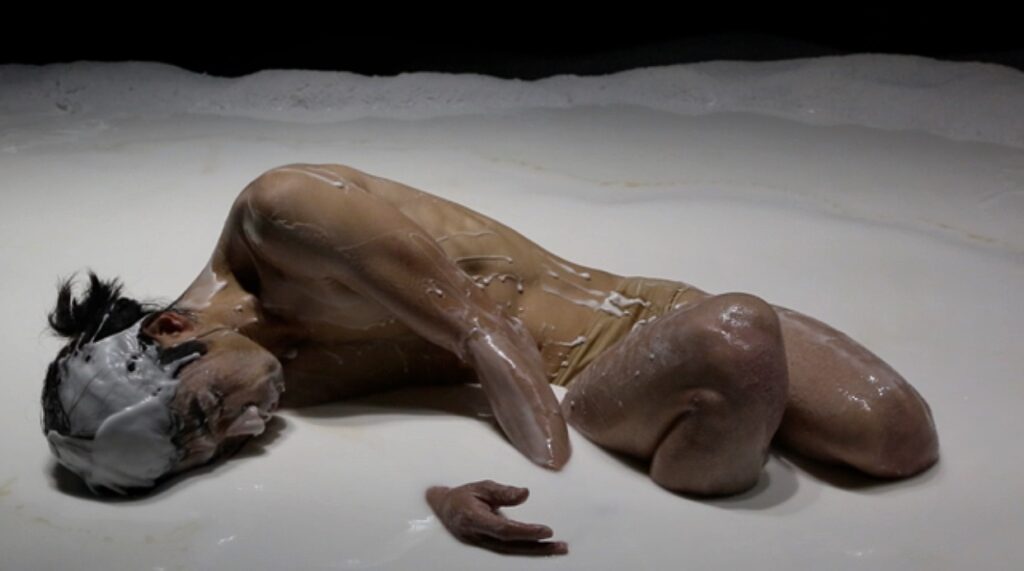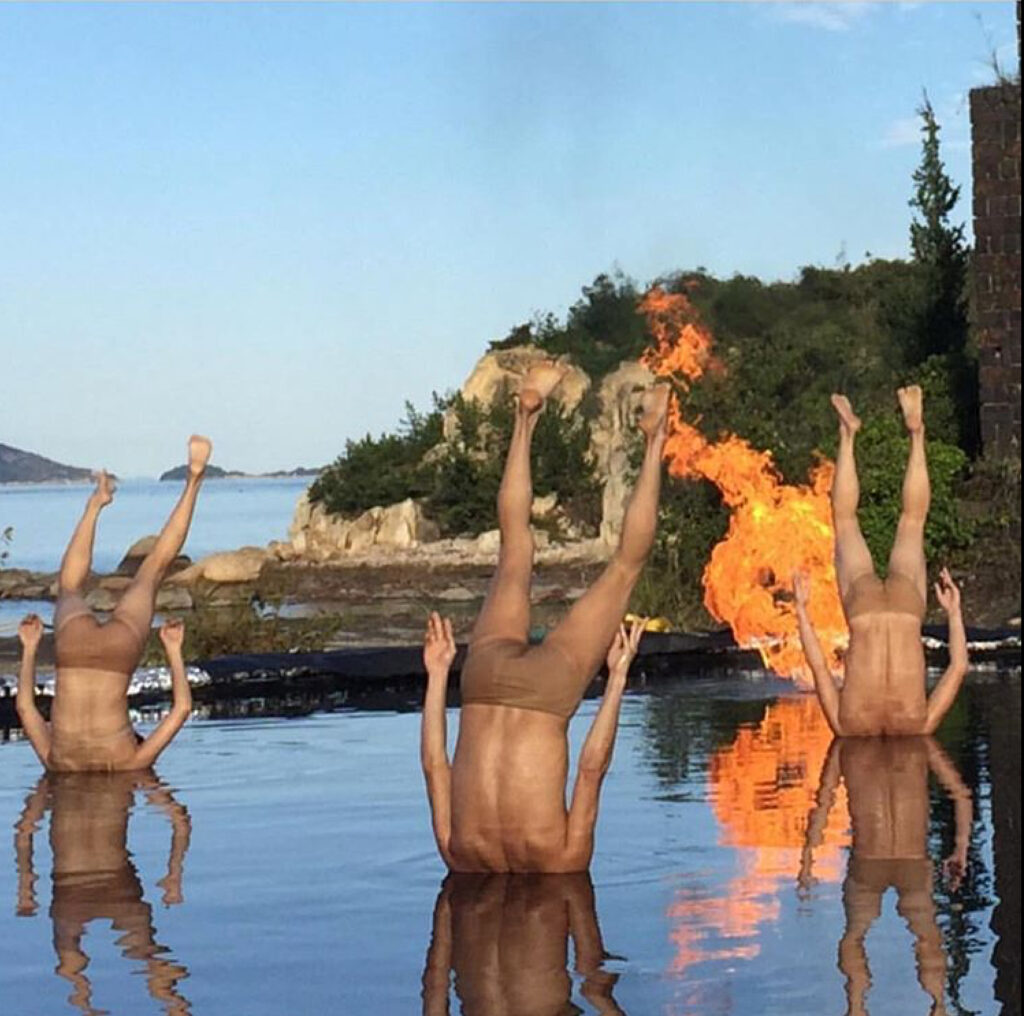 Press
Vessel is a masterpiece

RealKyoto
Never has the collaboration between a choreographer and a visual artist produced such perfect osmosis, to the point that scenography and movement are one. As if the two artists were inventing a new genre before our eyes.

Danse avec la plume
At times it feels like the audience is in a collective trance, sometimes breathing as one, sometime not breathing at all, beating to a single heartbeat. In this world, anything, including magical transformations and invisibility, seems possible.

Theatertimes
Jalet has brought another dimension to dance. The dancers' physicality is extraordinary. The collaborators tell us in the program notes that "their aim was to fuse sculpture and dance". In this they have succeeded beyond measure. Congratulations.

Theaterpeople review.
Nothing can prepare you for this…As the bodies straddle and hold, evolving into a series of increasingly complex forms, the audience is transfixed…. Masterful and wonderfully weird. We filed out of the theatre, spent.

Seesawmag
The imagination may not have stretched to this… Jalet's fortuitous meeting with Nawa and their subsequent collaboration has created a visually stunning and innovative ­masterclass for choreographers, dancers and sculptors. As for the awe-struck audience, we will hereafter look at the human form, and sculpture, in a more enriching way.

The Australian
Vessel impressively unites the differing creative disciplines, ideas and experiences in a unique, sixty-minute, visceral synergy of intriguing complexity and imagination.

Dance Australia
By the end of the performance I was convinced it was unlike anything else in the world.. a uniquely compelling coalescence of artforms that will be imprinted in my mind for years to come…

Limelight magazine
In this quiet but mesmerising work, Jalet and Nawa have enabled the body to take primacy.
Vessel is a must-see

The West Australian
A dance without a face. Such is the paradox of Vessel imagined by the choreographer Damien Jalet and the plastic artist Kohei Nawa. Arms, legs, busts and backs, but never the shadow of a glance. It takes a few minutes for the viewer to distinguish these shapes in a splendid chiaroscuro. The gestures unfold daring the figures of skeletons or insects, to end in a (re) fold of flesh. More than once, during this crossing of appearances, one will have believed to see a head or a mask. It is only the imagination playing tricks on us. Vessel is full of references. Damien Jalet thus evokes the Yomi sub-world dear to the Japanese, or other figures halfway between mythology and nature. But the play never imposes its sources. Everyone will absorb this organic gesture in their own way.

Les echos
Like sculptures brought to life these
forms begin to unfold,unravel and blossom.
These bodies blur the lines of identity, of gender, of race and even of species.
The dancers are mesmerising throughout.
I'm not sure where Vessel took me, but it's definitely somewhere I have never been before…

Sunday times / Perth now
Vessel is truly an astonishing and powerful performance, and the dancers highly skilled and masterful in their restraint and control, even during the most difficult postures. The lighting, stage set and music blend seamlessly to create an alternate universe that is both comforting and disturbing at the same time. Truly a performance that will leave memories and thoughts with the audience for some time to come.

The upside news

Vessel, backed by a minimalist rhythmic score by Marihiko Hara and Ryuichi Sakamoto, was a profound and disturbing work which simultaneously offered hope; if we have evolved into beings capable of such poetic and splendid self-reflection and artistry, surely we can resolve our planet's current existential crises too?

Scenestr.
A beautiful piece of art that uses the bodies of incredibly talented dancers in new but eternally relevant ways.

The upcoming
Vessel overflows with the wonderment of imagination and the brilliance of its artists. It lingers in the memory like an eerie, unforgettable dream.

Canberra critics circle

In dehumanising the human form, Jalet and Nawa have drawn us closer to a recognition of our place in the universe, our connection to all that is and was and will be. It's big, big stuff and it's exquisitely executed with vision, ingenuity and compassion.

In daily
By the time one of the dancers is dousing himself in dripping white foam from Nawa's installation, as though performing some ancient rite, you're thoroughly bewildered. But also intrigued – and quite unable to tear your eyes away.

Dance Tabs
Video
Credits
Choreographer : DAMIEN JALET
Scenography : KOHEI NAWA
Musical composition : MARIHIKO HARA RYUICHI SAKAMOTO
Lights by : YUKIKO YOSHIMOTO
With JUN MORII MIRAI MORIYAMA AIMILIOS ARAPOGLOU NOBUYOSHI ASAI RURI MITOH MAYUMU NAGAWA NAOKO TOZAWA
Photography : Yoshikazu Inoue, Gilles Delmas
Production : SANDWICH Inc. ; Théâtre National de Bretagne.
Sponsors : Arario Gallery, Warehouse Terrada, Amuse Inc., Grand Marble Co. LTD, Culture convenience Club Co. LTD
With the support Performing Arts Japan Programme for Europe (Japan Foundation).
Read further