About Damien Jalet
Damien Jalet in an independent French Belgian choreographer and dancer, whose work has been presented internationally. Interested in the capacity of dance to constantly reinvent itself by conversing with other medias; including the visual arts, music, cinema, theatre, and fashion; his works are often collaborative.
He worked as both a dancer and choreographer for such diverse companies as les ballet C de la B, Sasha Waltz and Guests, Chunky Move, Eastman, NYDC, Hessisches Staatsballetts, Paris Opera Ballet, Scottish Dance Theatre, Icelandic Dance Company, and Göteborgs Operans Danskompani.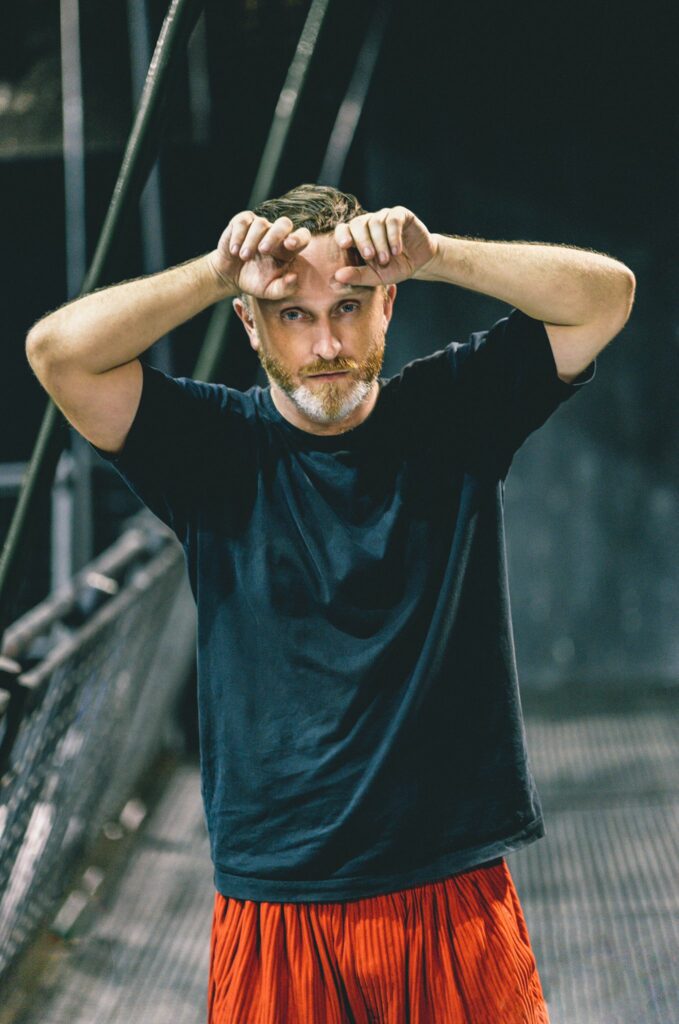 His earliest work as choreographer was "D'avant", created in 2002 with Sidi Larbi Cherkaoui, Luc Dunberry and Juan Kruz Diaz de Garaio Esnaola at the Schaubühne in Berlin. Followed by "Three Spells" for Tokyo International Festival 2008, "Babel(words)"2010, co-created with Sidi Larbi Cherkaoui, with a set by Antony Gormley (winning two Olivier Awards in The UK, and one Benois de la danse in Russia). A new production of Babel was performed in 2016 at the Cour d'Honneur du Palais des Papes in Avignon, – renamed: "Babel 7.16". In 2013 'Les Médusés", a choreographic installation for 30 performers was presented in the main galleries of the Louvre Paris. "Yama" in 2014 for the Scottish Dance Theatre, with set by American artist Jim Hodges. "Bolero" which he directed together with Cherkaoui and the performance artist Marina Abramović for the Paris Opera Ballet 2013. "Inked" in 2015 for the British Kathak dancer Aakash Odedra. Also in 2015, a collaboration with Erna Ómarsdóttir; "Obsidian Pieces" , for the Icelandic Dance Company, receiving the Icelandic National Performing Arts Award, Grimman, for Best Choreographer). October 2015, he choreographed Gravity Fatigue, conceptualized by fashion designer Hussein Chalayan, at Sadler's Wells in London.
In 2016 , THR(O)UGH, is a choreography for Hessisches Staatsballetts, collaborating again with artist Jim Hodges, Austrian composer Christian Fennesz, and designer Jean- Paul Lespagnard, nominated for "Best Choreographer" at The German Theatre Awards "Der Faust". He created the film "The Ferryman'", with director Gilles Delmas, highlighting the relationships between his works those of existing rituals practiced in both Bali and Japan. This film received the exclusive participation of Marina Abramović, and composer Ryuichi Sakamoto. It was presented during The Venice Biennale at Palazzo Fortuny May 2017. In (year?) Jalet directed; "Vessel", together with Japanese visual artist Kohei Nawa, a collaboration initiated during a four-month-long residency at Villa Kujoyama, Kyoto. The performance for seven dancers has been presented in a number of prestigious venues in Japan, including RHOM Theater Kyoto and Art Site Naoshima, as well as being presented worldwide. Nominated for The UK's "Laurence Olivier awards" as "best new dance production". He was the 2017 artistic director of the UK National Youth Dance Company, for which he created Tarantiseismic which premiered at Sadler's Wells, again collaborating with Jim Hodges. Since 2017, he is resident artist at the Théâtre National de Bretagne (TNB) directed by Arthur Nauzyciel, a theater director Jalet often collaborates with ( productions including: "Julius Caesar", "le musée de la mer", "splendid's", "Jan Karski", "la dame aux camélias").
In 2017 he directed "Skid" for Göteborgs Operans Danskompani, featuring 17 dancers and entirely performed on a ten square meter platform inclined at 34 degrees. Again collaborating with Jim Hodges on the set.
Damien Jalet received international critical acclaim for his numerous choreographed sections of the film "Suspiria", directed by Luca Guadagnino, and starring Tilda Swinton, Dakota Johnson, Jessica Harper and Ingrid Caven. Original score by Radiohead's frontman Thom Yorke.
In February 2018, he directed his first opera "Pelleas and Melissande", alongside Sidi Larbi Cherkaoui, with a set by Marina Abramović. Costumes by Iris van Herpen, and videos by Marco Brambilla, at the Antwerp Opera. He also created the work "Omphalos" for 20 dancers of the Mexican National Contemporary Dance Company CEPRODAC, teaming up again with musicians Marihiko Hara and Ryuichi Sakamoto, as well as costume designer Jean-Paul Lespagnard, and collaborating for the first time with set designer Jorge Ballina.
In 2019, he became "artist in residency" at Théâtre National de Chaillot in Paris. Here he choreographed the entirely danced film "Anima", directed by Paul Thomas Anderson and starring Thom Yorke, who also scored the film. It premiered in June at IMAX Theatres, as well as streaming on Netflix. For this work, also nominated "Best Musical Film" at the 2019 Grammy's awards, he won "Best Choreography" award at the UK Music Video Awards. This same year, he became Madonna's creative advisor for her first theatrical tour: "Madame X", for which he choreographed four numbers, including the shows opening number, and the film/live duet between Madonna and her daughter Lourdes for the song Frozen.
In 2020 he directed the runway show of Jun Takahashi's Undercover at the Cirque d'Hiver in Paris, with a collection inspired Akira Kurosawa's "Throne of Blood" film.
In September 2020 as a reaction to the Covid 19 pandemic, he accepted a last minute offer from The Paris Opera Ballet to create a piece performed on the proscenium of Palais Garnier. Here Jalet creates "Brise-Lames", with visual artist JR, pianist Koki Nakano, and dancer Aimilios Arapoglou – Jalet's artistic partner for all of his key projects. His upcoming projects include the creation "Mist" , for renowned Dutch company NDT1, and "Planet (Wanderer)" , which is currently slated to premiere at Theatre de Chaillot Paris September 2021, both project are collaborations with Kohei Nawa.
As a teacher, Jalet has taught his specific technique using centrifugal force in various companies and institutions, including The Pina Bausch Company, ImPulsTanz Vienna, Atelier de Paris, and Architanz Tokyo…
Damien Jalet was titled Knight of the Order of Arts and Letters by the French government in 2013.
Go further
Deep dive interview and presentation of Jalet's key works in Podium Dans for Dutch tv (in English)
Conversation with Dutch designer Iris Van Herpen, around the question « why art matters » in « The big ideas » for the New York Times
Radio conversation at « La grande table » on France Culture (in French)